Useful Laughter Yoga and related links 
Odette aka Lady Ha Ha 🙂 #ladyhaha https://www.facebook.com/LadyHaHaUK/
Laughter Yoga Wellness Training Academy London and UK on Facebook https://www.facebook.com/LaughterYogaLondonTraining/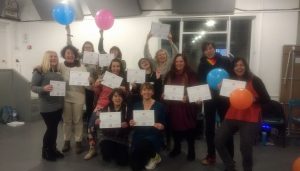 The Ha Ha Telephone Laughter Hotline (another service from Laughter Yoga Wellness UK)
Needing a laughter lift? Have a listen and join in with the laughter. Better still call in on Thursday evenings at 7.30pm. Details below.
Like us on FB https://www.facebook.com/HaHaHotline/
This is a telephone laughter club which we runs weekly on a Thursday evening accessed via an 03 telephone number.  Here in the UK 03 calls are usually the same cost as an 01 or 02 call but please check with your call provider.  We can all benefit from a regular laughter practice and we started the Ha Ha Hotline in order to give our laughter club/class members another opportunity to laugh with others in between classes. Everyone is welcome 🙂  No talking, just laughing for the Health of it.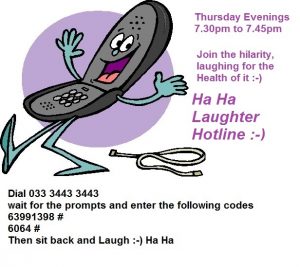 Training courses in Central Scotland please contact Morag at Live Laugh Breathe in Scotland. Morag offers Laughter Yoga Training, Laughter Therapy and Transformational Breath Workshops in the Stirling, Livingston, Bo'ness, Falkirk, Perth and Dundee areas of Central Scotland. She is also happy to travel for private group bookings.