Corporate Laughter Yoga Workshop in London March 2018
Lovely photo of a group of Bankers in the City of London. This is the after photo! 🙂  This photo was taken by one of the participants to share on my online channels. An early morning 8.30 am laughter yoga wellbeing workshop for senior banking executives.  The workshop was very well received and enjoyed by the group. What a way to set of the day 🙂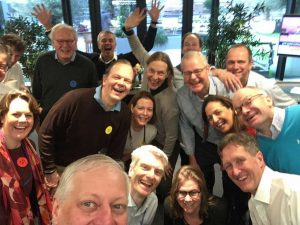 Laughter Yoga Exercises
Milk Shake Laughter Yoga Exercise with our Laughter Yoga Wellness club in London lead by Laughter Yoga Teacher Odette Kurland aka Lady Ha Ha 🙂
A blog about experiencing Laughter Yoga for the first time by Ashleigh who is trying something new every week over the next year. Laughter Yoga was her latest experience at our recent public workshop in North London. You can read all about it via  https://fiftytwo52blog.wordpress.com/2017/02/18/week-7-laughter-yoga/
YouTube Channel 
Click to subscribe to our YouTube Channel for lots of laughs and some examples of what we do in a laughter yoga workshop.
Our YouTube channel is now up and running. We will continue to add clips from our Laughter Club where we help members of the local community to bring more laughter in to their lives.
Below is a short clip from a laughter meditation where we let out our final laughs. This finishes in a deeply relaxing yoga nidra or sound meditation. ( Clip from our North London community Laughter Club , Clip taken at The Kindness Offensive Book Shop in Camden, North London)
Our Laughter Classes are in Archway at Hargrave Hall and Laughter Yoga Leader Training in London Angel and Islington.
Laughter Meditation