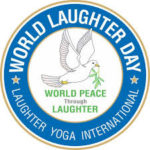 World Laughter Day 2020 online via Zoom – A 16 hour non stop laughter zoomathon.
770 participants visited us and received 412 hours (24,773 minutes) of laughter over the duration of 16.2 hours (972 minutes) HaHa 
Join Odette aka Lady HaHa and 27 Laughter Yoga professionals from across the globe! 16 hours of uplifting continuous stress-busting laughter and joyful activities to celebrate World Laughter Day with special guest Dr Madan Kataria (founder of laughter yoga)
Come and join us for this free global event to celebrate World Laughter Day 2020. For  16 hours 8am to Midnight in the UK,  you will have the opportunity to join experienced Laughter Professionals from 14 countries sharing laughter, play, meditation and dance to light our world with joy and togetherness. Check the schedule out to view the incredible offerings and dip in and out as you please. Something like this? 
As laughter yoga is essentially a form of exercise it may not be suitable for everyone. Please read and agree to the info below.
Medical Contraindications.  It is contraindicated for people suffering from: Any kind of hernia, Heart disease with angina pain, Persistent cough with breathlessness, Uncontrolled high blood pressure, Urinary Incontinence, Epilepsy, Advanced (bleeding) piles and haemorrhoids or any bleeding tendencies in any part of the body, Severe backache, schizophrenia, Hyper mania (manic part of bipolar depression) Any acute symptoms of cough, cold and fever.  People who have undergone major surgery should wait at least three months before doing Laughter Yoga. Pregnant women with previous history of miscarriages and also those who are in advanced stage of pregnancy should take medical advice from specialists before doing laughter exercises.  If you are not sure if this activity is suitable please seek medical advice.
Please Note: By taking part you have read and agree to the terms and conditions stated above and you fully release the teachers / leaders of the Laughter Workshop you are attending today from any form of liability.
Time: May 3, 2020 08:00 AM London to Midnight London UK time
click to join the event any time from 8am to midnight on Sunday 3rd May.
Meeting ID: 851 7696 4539
Password: ladyhaha
https://tinyurl.com/yav6e2hd
 A massive celebration for World Laughter Day 2020 of non stop laughter and joyful activities from 8am to midnight on Sunday 3rd May 2020.
We will also be welcoming Dr Madan Kataria, the founder and creator of laughter yoga in India.  This is an amazing day with each laughter yogi leading a half an hour session.  In addition to this, there will be a laughter dance party and more wonderful surprises on the day.
27 Laughter yoga professionals from across the globe from New Zealand, Scotland, India, Indonesia, France, The Netherlands,  England, Canada, USA, Switzerland, Germany, Italy, Wales and Brazil
About World Laughter Day
World Laughter day was created in 1998 by Dr. Madan Kataria, founder of the worldwide Laughter Yoga movement.
What is World Laughter Day and what do people do on this day?
First Sunday of every May is World Laughter Day. Our mission to bring good health joy and world peace through laughter.
On this day the laughter club members and their friends and families get together in important squares public parks to laugh together and pray for world peace.  This year we come together united from across the globe!
This event is organised by Laughter Yoga Wellness London and UK in collaboration with 28 laughter yoga professionals from across the globe including the founder of Laughter Yoga, Dr Madan Kataria in India. 
www.laughteryogawellness.co.uk