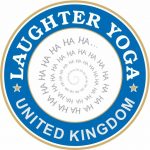 We offer Laughter Yoga Training and Personal Development Courses to individuals and organisations in London and UK wide.
New dates for October/November 2017 coming soon for Laughter Yoga Training in London. We are in the process of securing a new venue!

We can run our Laughter Yoga training at your office, workplace or venue. Contact us to discuss your requirements. Minimum number of participants required for private group bookings.
Why train as a Laughter Yoga Leader ?
Perfect addition to any holistic or therapeutic tool box.
To bring more laughter and joy in to your own life.
Start a Laughter Club for your local community.
Career change
Personal Development
Building confidence
Learning new skills
Learning to present the laughter yoga experience and enhancing you confidence to speak publicly about laughter yoga
Learning to work with and teach laughter yoga to groups
There are so many reasons and so many benefits in learning to become a laughter yoga leader. Imagine having such a powerful holistic tool to work with which can be life changing for recipients. You can really, seriously make such a difference to the lives of so many people.
After the two day training you will have the tools and knowledge to start teaching laughter yoga classes and workshops
Laughter Yoga Leader Training dates for 2017 coming soon!
We offer 2 day accredited Laughter Yoga Leader Training Courses in London. This is certified training. Upon successful completion, you will receive an official certificate accredited by Laughter Yoga University in India. This will allow you to obtain insurance to work professionally as a Laughter Yoga Leader.
You will also receive membership to our Laughter Facilitator Support Network, facebook group for Laughter Facilitators where you can connect with other Laughter Yoga Leaders and Teachers.
How to become a Laughter Yoga Leader
To do List 🙂
Book on Laughter Yoga Leader Training
Find the right teacher, one you can connect and resonate with.
Start a Laughter Club in your local community either on your own or with another newly trained Laughter Buddy.  (When you train with Laughter Yoga Wellness UK, we will help guide you on your journey as a new laughter yoga leader with helpful tips and advice.)
This is where the real work begins as you will learn and gain experience.  Every group is different and there will almost always be something new to learn from your participants.  This is also your playground for playing and testing new exercises, being creative and finding your feet and eventually your own style.  We all bring our own personality and strengths in to our work.  As the saying goes "practice makes perfect" although I would add, you will need to enjoy what you are doing and if you enjoy what you are doing participants will pick up on that. Your enthusiasm and energy and love for what you are doing will shine through and infect those you work with, just like laughter is infectious, so are you 🙂
Join our Support Group.  The Laughter Facilitator Support Network.  This will be an invaluable resource for you and an opportunity to connect with other Laughter Professionals. Gain insights, ideas and Network with other laughter pros. You may find a laughter buddy who lives near to you.
Have Fun Fun Fun and En JOY 🙂
Gain as much experience as you can working with different types of groups and perhaps you will find an area or niche that you wish to specialise in ie: working with cancer patients, corporate wellbeing, elderly, dementia groups, young people or teenagers, schools, colleges and the list goes on. Perhaps you have another passion in your life that you can bring laughter to.
Leading laughter workshops is not for everyone but the two day training will be a wonderful immersion in to laughter and laughter yoga. This in itself may be exactly what you need on a personal level. Often people come along on the training solely to reconnect with laughter and joy, learn new skills and gain confidence.
Enjoy the journey, it is an incredible one as you fully connect with Joy and regular laughter in your life, you may be surprised as this has a ripple effect on all areas of your life and even helping to create more positive relationships with others.
 And Why Train with Us ?
We love what we do.
We joined the Laughter Yoga World because we care about people and making a difference.  We saw laughter as an amazing tool to make a difference to the lives of those we work with.
We really care about You and your laughter journey. We care so much that we started the Laughter facilitator support network as we feel it is really important to not feel alone and to feel fully supported. We will connect you to your new Laughter Family.
Although we have been working with Laughter Yoga for some time, our Laughter Yoga Training School is newly launched in 2017 and headed by Odette Kurland. We bring to the table oodles of enthusiasm, new thinking, new ideas and a modern approach. We want our graduates to have the best possible start.
Odette, our Laughter Yoga Teacher has a background in various Holistic Therapies including Laughter Yoga and Energy Healing, Sound Healing and Meditation. Known for her caring nature which includes random acts of kindness and offering a warm heart, a pair of socks and a woolly hat and conversation to homeless people. She works full time running her wellbeing and training company,  Laughter Yoga Wellness London and UK and London Gong. Going further back, Odette worked a 9-5 in I.T so she is a shining example that change is possible.
She has worked with Charities, Community Groups, Banks, NHS, Media Companies and more. From private parties to Small, Medium and Multi National Corporations. Laughter Yoga has been life changing for her and now she wishes to spread the joy by training others to connect with more joy and laughter.
Fully Accredited Laughter Yoga Teacher, Laughter Yoga Leader and Gibberish Coach – United Mind
Laughter Facilitation Skills – Joe Hoare
CPD Laughter Wellness Immersion with Sebastien Gendry
Meditation and Mindfulness Teachers Training (endorsed and validated by the Complimentary Medical Association) – Dr Itai Ivtzan (Awareness is Freedom)
Gong and Sound Therapy – Don Conreaux, Tom Soltron, Abby del Sol, Sheila Whittaker
Counselling Skills – Stanmore College
Reiki Master , Rahanni Healer,  Spiritual Healer
2-Day Intensive Laughter Yoga Training Course London
After successful completion of this course you are qualified as a Certified Laughter Yoga Leader (CLYL), an internationally recognized qualification. You can lead Laughter Yoga sessions in social clubs, yoga & fitness centers, schools, seniors and in the corporate workplace and offer public seminars.
The course includes
get an understanding of the need for Laughter Yoga
find out how the idea of Laughter Clubs originated
learn the basic guidelines for a Laughter Session
get to know the benefits of Laughter Yoga as well as the risks
learn to present Laughter Yoga
find out how to start a Laughter Club
tips on laughter with businesses and private groups
learn laughter exercises
and much more.
Laughter Yoga Course Material
You will receive the following as part of your course package
Laughter Yoga Leader Manual
Laughter Yoga Leader Certificate
6 months ProZone trial membership at £10 (full profile available for paid membership of $95)
additional information which includes meditations, standard forms and research documents
Opportunity to join the Laughter Facilitator Support Network facebook group. The online support community for laughter professionals. This will get you off to a good start and connect you to your new laughter buddies.
Information on daily laughter on  Skype Laughter Clubs
At the end of the two days you will, upon successful completion, receive a Laughter Yoga Leader certificate enabling you to get appropriate insurance in order to run laughter workshops as well as allowing you to call yourself Laughter Yoga Leader.
Who Needs Laughter Yoga Training
Anyone who is committed to spreading Laughter Yoga will benefit from this training. It will be of special interest to:
Yoga and fitness teachers
Healers
Mindfulness and Meditation facilitators and teachers
Workshop Leaders and Facilitators
HR  Personnel and management training professionals
Health care professionals
Teachers and sports coaches
Psychologists and Psychiatrists
Entertainment professionals
Senior care workers
Therapists
Life coaches and alternative therapists
Sales managers
Tourism professionals & tour guides
Team Leaders
Contact us by email or give us a call for more information and to register for 2017 dates please pop your email address in to be in the loop!
Register for London Training dates.
We are happy to travel. If you have a group wishing to be trained do give us a call or drop us an email.