Some reviews and testimonials from our clients and laughter club and Laughter Yoga Wellness Training Academy
Corporate sessions feedback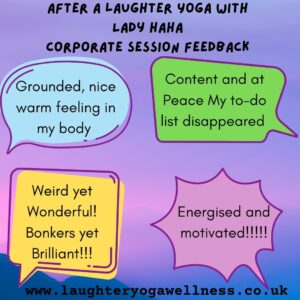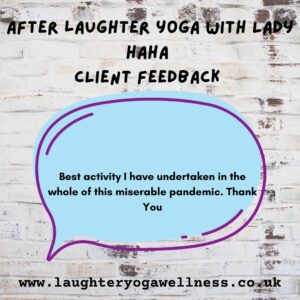 Reeves Conference
I was hosting a 2 day conference where I welcomed 60 of my colleagues from our marketing departments across the world. I wanted to have a break out session that was fun and engaging, and not the typical 'corporate team building' activity. My colleagues loved it! We were laughing for days after
Imperial College – Mental Health Awareness Week. We delivered two laughter workshops for their Staff and Teachers
Thank you Odette, it was the highlight of our Mental Health Awareness Week programme. Something so different, fun and beneficial to staff stress levels and overall health.
How likely are you to recommend our services to others ?
Already have 🙂
Any other comments
Multi-National Corporate Client
Thank you for the great laughing yoga session. I believe everybody enjoyed it. I have to say it was quite funny to watch as well 🙂 We will definitely consider you for our next events in London !
St Mungo's ( Homeless Charity )
Thank you, Odette and Suz for coming along to our very special Wellbeing Day and doing such an amazing and heart felt workshop. It was such a joy to have your amazing energies with us and thanks for passing it on!
Laughter Club
"Thank you very much for the session today it was super fun and I thoroughly enjoyed it." From Will

Sarah ( Yoga Teacher ) I really enjoyed your laughter yoga group at the kindness offensive. I felt as a facilitator you are welcoming and have an infectious laugh! The session was fun and definitely involved lots of real laughter!

Thanks for the session, it was a lot of fun. Really by accident the literary pun!!! Thought session was fun and look forward to doing some more HoHa!! Xxx
A regular Laughter Club Attendee
How can I describe laughter yoga? To me it is an invaluable happiness tool. I started laughter yoga about a year ago and have been a strict devotee since then. Every session brings me much joy and lifts my spirits by allowing me to laugh and play and regress back to childhood silliness. I have bipolar and have found laughter yoga a fabulous tool to lift my spirits when I'm feeling really down. Even when I feel fine, laughter yoga lifts you up and brings peace and calmness of mind. Odette is a fabulous leader whose laughter and joy for her work is infectious.
Any Other Comments or Suggestions
Run More Frequently
Any other comments on how you are feeling after the workshop ?
So much better with helpful tools
Relaxed
Relaxed
Great, Refreshed
Like I have just had a good workout
Very Good ?
I feel more relaxed
Feel really relaxed, happy and ready for the weekend ahead
Any Other Comments or Suggestions
Want to do it more often
Would love to do it more often
I buzzed off the instructors energy and her laughter is infectious. She presented the class clearly and effectively.
Any Other Comments or Suggestions
It was lovely. Great to finish on Yoga Nidra
Fully enjoyed the session – really wasn't sure how I would find it, but I loved it
Loved it !!
I wasn't sure what to expect, but loved it and feel very calm and happy now!
Really different and fun.
Really interesting session – never practised laughter yoga before and I definitely saw a difference in my mood.
I loved this session and would recommend this to everyone!!
Really good fun! Can we do it every Week?
It was great to get out of my comfort zone.
It was great! Very relaxing and uplifting!
Relaxed – like being a kid again.
Fun
Laughter Yoga Wellness Training Academy Reviews
See some of our reviews on Facebook https://www.facebook.com/pg/LaughterYogaLondonTraining/reviews/
Review from Muriel after completing our new 2 day laughter yoga leader training plus advanced module in London Dec 2018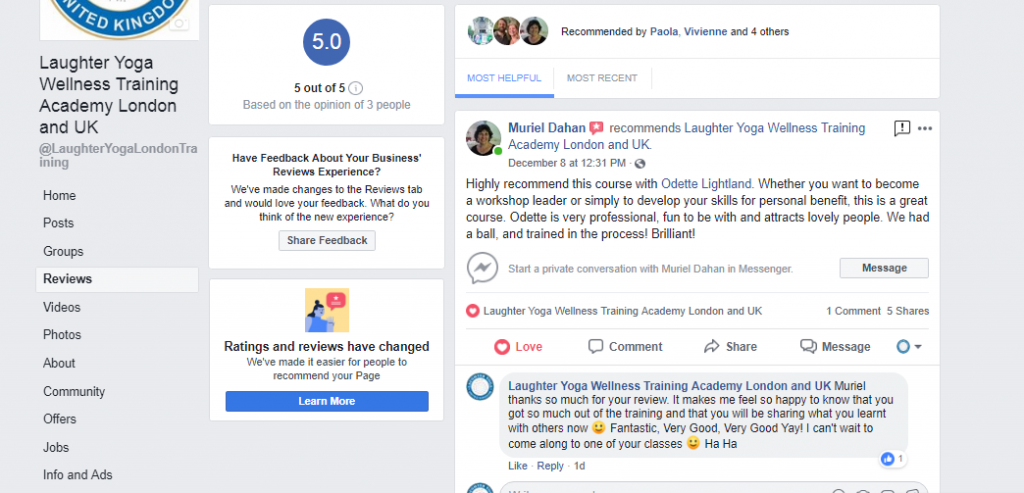 Review from Paola after attending our Laughter Yoga Leader training and going on to do some work for us!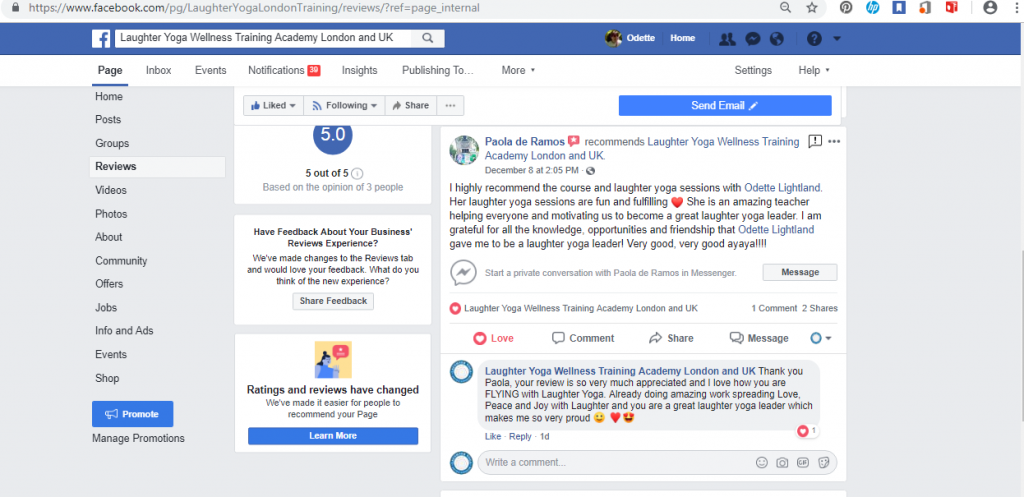 Laughter Yoga Wellness Workshop attendee (public laughter yoga class)
"A hugely enjoyable hour and a half. Odette is a great facilitator making everyone feel at ease and completely keen to get involved and lose their inhibitions. I will definitely go again.". Jenna