I have been celebrating world laughter day in London organising events there for the past 4 years and already had my usual world laughter day London event advertised before the world changed so suddenly!
As the date was drawing closer it became clear that there would not be a world laughter day event happening in London due to social distancing and the covid-19 pandemic. We are all
The world needs laughter right now more than ever as it can provide a release from current goings on, a stress release, a mood lift and overall well-being boost for mind, body and soul and it can totally help us at times of adversity!
I decided to invite laughter yoga colleagues to join me in sharing Love, Peace and Joy through laughter together as we are all in this together, we are one world! #oneworld  I also invited Dr Madan Kataria  (founder of laughter yoga in India) to join us and Dr Kataria said YES! How awesome is this.
So this was the birth of World Laughter Day Zoomathon for 2020.  Opening Ceremony at 8am, moving on to Judith in New Zealand and bouncing around the globe all day until we finish off at around midnight in Brazil!
You are invited to join us from wherever you are, you can pop in and out as you please throughout the day/night.  We have 16 hours of laughter, relaxation and joyful activities for you and it is FREE of charge.  Everyone is donating their time to this beautiful day.
What's on?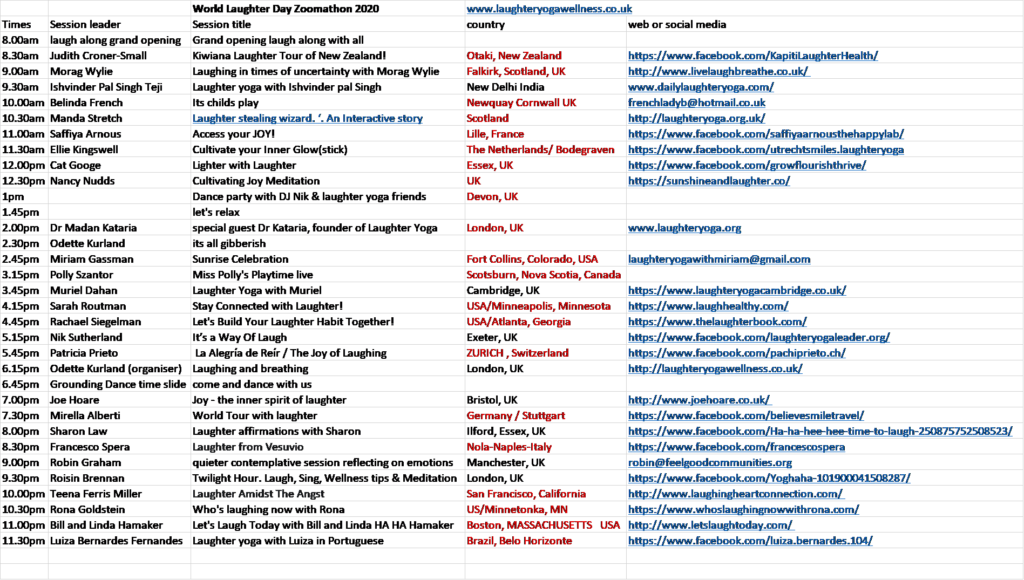 For more info please contact the organiser Odette Kurland Laughter Yoga Wellness UK
To join us on the day you can rsvp to the facebook event via https://www.facebook.com/events/2552658038147898/
If you arrive after a session has started, please enjoy a giggle in the waiting room and we will pop you in the event either when there is a good moment to do so in the current session or ready for the start of the next session.
As laughter yoga is essentially a form of exercise it may not be suitable for everyone. Please read and agree to the info below.
Medical Contraindications. It is contraindicated for people suffering from: Any kind of hernia, Heart disease with angina pain, Persistent cough with breathlessness, Uncontrolled high blood pressure, Urinary Incontinence, Epilepsy, Advanced (bleeding) piles and haemorrhoids or any bleeding tendencies in any part of the body, Severe backache, schizophrenia, Hyper mania (manic part of bipolar depression) Any acute symptoms of cough, cold and fever. People who have undergone major surgery should wait at least three months before doing Laughter Yoga. Pregnant women with previous history of miscarriages and also those who are in advanced stage of pregnancy should take medical advice from specialists before doing laughter exercises. If you are not sure if this activity is suitable please seek medical advice.
VIDEO/PHOTOGRAPHY The organisers and session leaders will be taking both videos and photos of this event for publication on and offline. By taking part you consent to being on film and/or photo however you can if you like, switch off your video.
Please Note: By taking part you have read and agree to the terms and conditions stated above and you fully release the teachers / leaders of the Laughter Workshop you are attending today from any form of liability. Also please do not take any photos or video of these sessions.
Time: May 3, 2020 08:00 AM London to Midnight London UK time
Click on the link or enter meeting details to join the event any time from 8am to midnight on Sunday 3rd May.
Link to join https://tinyurl.com/yav6e2hd
Meeting ID: 851 7696 4539
Password: ladyhaha