Wow! such a super laughter club. We had oodles of fun and laughter. It just happened to fall on the same day as the World's biggest eye contact experiment. Now of course I could not be in more than one place at the same time so we joined in at our laughter club in North London. Laughter connects people, it is an incredible social connector so it seemed perfect to add a minute of eye contact to the start of our workshop. Of course we paired up with people we did not know and our experiment was a little different with an added 20 seconds of laughter after the minute.  Everyone seemed to enjoy the new exercise and some of our participants suggested we do it again and we will 🙂
So, what's it all about ?
Encouraging more human connection by way of one minute of eye contact between strangers.
The annual experiment was created by Liberators International. The Liberators are the global organisers of the annual experiment. They are a peaceful international social movement founded in Perth, Australia and are passionate about creating participatory public demonstrations for peace and videos that allow us to see that beyond our differences there is love and humanity.
Why ? Where has the human connection gone ? You just need to sit on a bus or a tube, worse still at a restaurant with friends and see how many people have their necks bent, heads down focused on their phone or tablet. We are so not in the here and now and not connected with those around us. I would hope that those who took part have come away feeling encouraged to connect more with those around them.
On that note, I came across this super idea on my facebook feed the other day. So simple but so needed! We can all do this when we meet with family and friends. Let's embrace the concept of being in the moment, being present and appreciating the wonderful people who are there with us in that moment.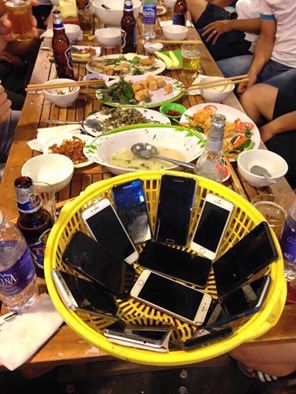 A short video of us taking part in the experiment.
Our session this week was also filmed by a proper camera man from our kind venue sponsors, The Kindness Offensive. They are making a film of different activities that are held at their bookshop. More info via http://thekindnessoffensive.com/  We are looking forward to see their film 🙂 TKO are creators of the worlds largest random acts of kindness and free giveaways, run by volunteers.  I must add the short video above is my filming!!! Ha Ha.
Our next laughter club is on 26th November. Hope to see you then 🙂 Rsvp via http://www.eventbrite.co.uk/o/laughter-yoga-wellness-london-9871639126
#eyecontactexperiment #eyecontact