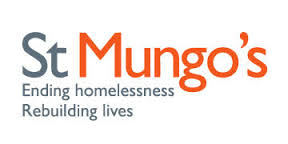 Every Tuesday not far from Clapham Common there is a beautiful hidden gem of a space offering a day filled to the brim with laughter, creativity, holistic therapies, support, drama, film making, art therapy and and a full range of activities to help improve peoples confidence and creativity.  It is run by a lovely lady called Jeanette and a team of wonderful volunteers. This is the St Mungo's Wellbeing Day.  You walk in through the big black gates and hidden behind them is a gorgeous garden where they also run a gardening project, another hugely therapeutic activity. You are greeted with a warm smile and made to feel so very welcome.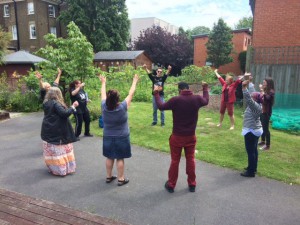 There are a number of therapy rooms where they offer everything from acupuncture to Reiki to Massage. I could see a queue of people, some with acupuncture needles sticking out from their ears! and other patiently waiting for acupuncture which seems very popular. St Mungo's is an amazing charity where they help homeless people. They not only help people back in to housing, they then help them to rebuild their lives, their self esteem and so much more.
There are so many reasons for people finding themselves homeless, which can be anything from breakdown in a relationship, to mental health break down, to loss of a loved one, loss of a job and the list goes on to just being down on ones luck! So at a time when people find themselves in desperate need of support, they find themselves losing their homes! Homelessness can literally happen to anyone and I for one have met homeless people from all walks of life, very much like laughter has no boundaries, nor does homelessness! They say we are literally just a few wage slips away from potential homelessness! This is a fact.
I have been involved in helping to connect the St Mungo's wellbeing day with holistic therapists for a few years now and have offered Reiki there previously. It now gives me great pleasure to bring the magic of laughter and cheer to these beautiful people who have been down on their luck.  A much needed "pick me up".
St Mungo's Vision is that everyone has a place to call home and can fulfil their hopes and ambitions.
I invited my laughter yogi friend Suz to join me for yesterday's laughter workshop and we both thoroughly enjoyed the experience which I can only describe as magical! to see so much instant positive change in people in such a short space of time. One lady told us after the workshop that she hasn't felt so good in a long time. If I have ever wished I had taken a before an after shot, this was it WOW! This lady was just beaming and almost unrecognisable after the session. She remarked that she could not believe how she felt so full of energy. In fact she was actually hesitant to join in at the start worried it would be too energetic as she was feeling tired and low in energy. WOW! I am sure pleased she gave it a go! We ended the session with a grounding dance which everyone just loved. 
Not everyone was brave enough or willing to join in so we did have a group of onlookers who appeared to be laughing almost as much as we were so all in all everyone, even those who watched from a distance got so so much from the experience.
So Suz and I will be back for a longer session next time which will allow for an extended yoga nidra meditation and sound healing.
Just amazing, so so happy that I have the tools to help create almost instant positive change for those who so need it.  A beautiful experience and really looking forward to the next one. 
If you are a holistic complimentary therapist, the St Mungo's Wellbeing day are always looking for volunteer therapists for Tuesday's in South London. Please get in touch with Jeanette who relies solely on volunteers for this fabulous service. More details can be found at http://www.mungos.org/services/recovery_from_homelessness/wellbeing_days
A lovely testimonial from Jeanette at St Mungo's Wellbeing Day from our facebook page 🙂
St Mungo's Thank you, Odette and Suz for coming along to our very special Wellbeing Day and doing such an amazing and heart felt workshop. It was such a joy to have your amazing energies with us and thanks for passing it on!

We look forward to welcoming you back soon.

Jeanette, The Wellbeing Day